Seahawks vs. Packers Prediction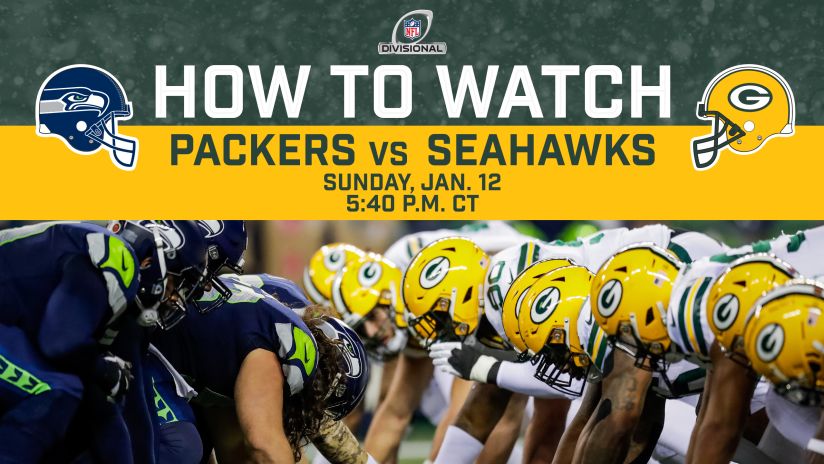 When: Sunday, January 12, 2020 at 6:40pm EST
Where: Lambeau Field, Green Bay
The Green Bay Packers will host the Seattle Seahawks in the NFC Divisional playoff Sunday evening from Lambeau Field. The Seahawks went 11-5 in regular-season play and compiled a 17-9 road win against the Eagles in the Wildcard game. The Packers earned a first-round bye with a 13-3 regular-season record. These NFC foes last met in November of 2018 in a game the Seahawks won at home by a 27-24 score. They also played in the 2014 NFC Championship. Seattle rallied for a thrilling 28-22 overtime home win in that one.
Seattle Seahawks Preview
The Seattle Seahawks' playoff experience was on display in their 17-9 road win in Philadelphia in the NFC Wildcard. Seattle had lost its last two regular-season games but was efficient in Sunday's win in Philly. Russell Wilson was tremendous, accumulating 325 passing yards and one touchdown. The eight-year veteran has been one of the top QB's in the NFL this season and has not tossed an interception in four straight games. Wilson posted 4110 passing yards with a sparking 31:5 TD to INT ratio in regular-season play.
Seahawks #1 RB Chris Carson is out for the year with a hip injury. They did not generate significant yards on the ground in the Wildcard win as Travis Homer and Marshawn Lynch only combined for 19 yards on 17 carries. Homer tallied 114 rushing yards in four regular-season games. Tyler Lockett made an impact with 62 receiving yards against the Eagles. The 27-year old WR accrued a team-leading 1057 receiving yards in regular-season play. The Seattle offense has now scored 21 or fewer points in three straight games.
The Seahawks' defense came through with a spectacular effort in the Wildcard victory, although they did catch a break with Carson Wentz exiting early with a concussion. They limited Josh McCown to 174 passing yards. Seattle finished the regular season placed 27th overall against the pass and 22nd against the run.
The Seahawks averaged 25.3 points in the regular season, positioning them ninth in the NFL. They allowed an average of 24.9 points, pegging them 22nd overall. Seattle is now a remarkable 8-1 on the road this season.
Green Bay Packers Preview
The Green Bay Packers finished the regular season with five consecutive wins to land a first-round bye. Their most notable win in that span was a 23-10 road win in Minnesota and their previous loss came on the road against the 49ers in week 12.
Aaron Rodgers had a bit of a lull late in the season for his standards but still managed to finish with 4002 passing yards and a sharp 26:4 TD to INT ratio. The 15-year veteran star tossed one pick in each of his last two games. Rodgers is 4-3 in his career in Divisional playoff games.
Aaron Jones is a big reason the Packers won the division. The 25-year old running back eclipsed 100 rushing yards five times this season and finished the season with 1084 rushing yards, good for 12th in the NFL. Davante Adams is Rodgers' favorite target. The 27-year old WR finished the regular season strong and has tallied 997 receiving yards and five touchdowns. The Packers offense consistently produced and scored at least 20 points in all but three games.
The Green Bay defense was outstanding and improved as the season progressed. They stand 14th against the pass and 23rd against the run. The Packers are averaging 23.5 points, ranking them 15th in the NFL. They are holding opponents to an average of 19.6 points, placing them ninth in the NFL. Green Bay went 7-1 at Lambeau Field this season.
Seattle Seahawks Live Stream schedule
Where to watch live streams?
Seattle Seahawks Live Stream On Youpit Network
Seattle Seahawks
The Seattle Seahawks are a professional American football franchise based in Seattle, Washington. The Seahawks compete in the National Football League (NFL) as a member club of the league's National Football Conference (NFC) West division. They joined the NFL in 1976 as an expansion team. The Seahawks are coached by Pete Carroll. Since 2002, they have played their home games at CenturyLink Field (formerly Qwest Field), located south of downtown Seattle. They previously played home games in the Kingdome (1976–1999) and Husky Stadium (1994, 2000–2001).
Seahawks fans have been referred to collectively as the "12th Man",[9][10][11] "12th Fan",[12][13] or "12s".[14][15][16] The Seahawks' fans have twice set the Guinness World Record for the loudest crowd noise at a sporting event, first registering 136.6 decibels during a game against the San Francisco 49ers in September 2013,[17] and later during a Monday Night Football game against the New Orleans Saints a few months later, with a then record-setting 137.6 dB.[18][19] The Seahawks are the only NFL franchise based in the Pacific Northwest region of North America, and thus attract support from a wide geographical area, including some parts of Oregon, Montana, Idaho, and Alaska, as well as Canadian fans in British Columbia, Alberta and Saskatchewan.[20]
Steve Largent, Cortez Kennedy, Walter Jones, and Kenny Easley have been voted into the Pro Football Hall of Fame primarily or wholly for their accomplishments as Seahawks. In addition to them, Dave Brown, Jacob Green, Dave Krieg, Curt Warner, and Jim Zorn have been inducted into the Seahawks Ring of Honor along with Pete Gross (radio announcer) and Chuck Knox (head coach). The Seahawks have won 10 division titles and three conference championships. They are the only team to have played in both the AFC and NFC Championship Games. They have appeared in three Super Bowls: losing 21–10 to the Pittsburgh Steelers in Super Bowl XL, defeating the Denver Broncos 43–8 for their first championship in Super Bowl XLVIII, and losing 28–24 to the New England Patriots in Super Bowl XLIX.