Pittsburgh Steelers vs Cleveland Browns Preview and Prediction
When: Thursday, November 14, 2019 at 8:20pm EST
 Where: FirstEnergy Stadium, Cleveland
Introduction
It's an old AFC Central and current AFC North rivalry kicking off week 11 of the NFL schedule on the shores of Lake Erie. The Pittsburgh Steelers make the short trip in the Rust Belt to face the Cleveland Browns on Thursday Night Football. Pittsburgh comes in off a hard-fought 17-12 win at home over the Rams Sunday afternoon. Cleveland earned a tough 19-16 win over Buffalo at home in their last game Sunday afternoon. The Steelers lead the all-time regular season series between the teams 73-58-1 and have gone 11-1-1 in the last 13 meetings. Last season, the teams tied 21-21 in Cleveland on September 9, 2018 before the Steelers claimed a 33-18 home victory on October 28, 2018.
Pittsburgh Steelers Review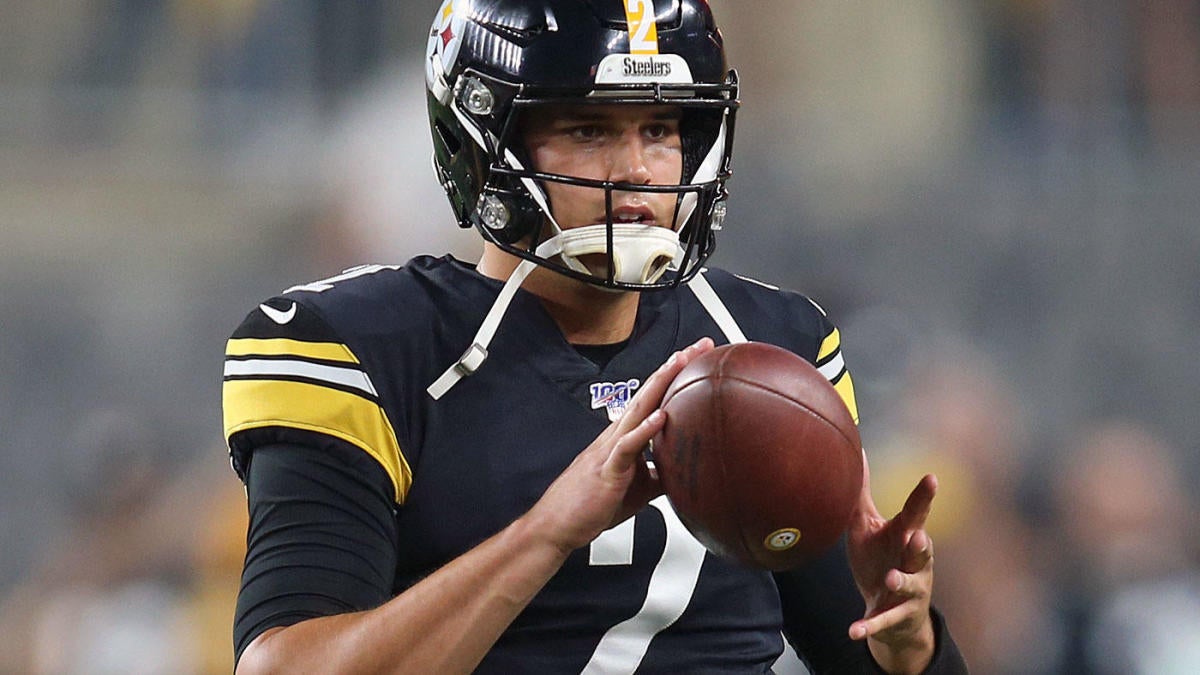 Pittsburgh started the year about as poorly as one can only to turn things around since that point in time. The Steelers were 0-3 after losses to New England (33-3) and San Francisco (24-21) on the road sandwiching a 28-26 home loss to Seattle. Pittsburgh lost star QB Ben Roethlisberger for the season in week 2 with an elbow injury, turning the offense over to Mason Rudolph. The Steelers rolled over the winless Bengals 27-3 for their first win of the season in week 4 before falling 26-23 in overtime to the Ravens to drop to 1-4. Pittsburgh lost Rudolph in that game with a concussion, leaving third-string Devlin Hodges to lead the team to Los Angeles to face the Chargers. The Steelers turned back Los Angeles 24-17 and that sparked the team. Pittsburgh came out of their bye with a 27-14 win on a Monday night at home against Miami, then edged the Colts 26-24 at home to return to .500 on the year heading into last week's tilt with the Rams.
The Steelers were without James Conner and Benny Snell Jr. yet managed to do enough to get the win. After giving up an early touchdown on a bad snap that led to a scoop-six by the Rams, Pittsburgh dug in and made plays on both sides of the ball. The Steelers' defense scored the go-ahead touchdown when Minkah Fitzpatrick returned a fumble 43 yards for a score with under two minutes to play in the first half for a 14-7 lead. That proved to be enough points as the Steelers' defense allowed the Rams only three points: Los Angeles' defense put up three times that many in the contest. Pittsburgh was outgained 306-273 and gave up 16 first downs to their 15. The Steelers did win the time of possession battle 31:40 to 28:20 and forced four turnovers while committing two: both teams scored a defensive touchdown while Pittsburgh also allowed a safety. Still, Pittsburgh did enough to earn a fourth straight win and climb to 5-4 on the year.
Cleveland Browns Review
Cleveland had a ton of expectations after last season's improvement and the offseason acquisition of Odell Beckham Jr. from the Giants to add another playmaker. Instead, things haven't gone according to plan as the Browns are just 3-6 at this point of the season, four games behind the Ravens in the AFC North. Cleveland opened the season with a thud as they were clobbered 43-13 at home by Tennessee before bouncing back with a 23-3 demolition of the Jets on the road. The Browns lost 20-13 at home to the Rams before taking down Baltimore 40-25 on the road to even their mark at 2-2. Entering this contest, that's their most recent win: they were drubbed 31-3 by San Francisco on Monday Night Football on the road, blew a double-digit lead to lose 32-28 to Seattle at home and then hit the bye. Coming out of the bye, the Browns turned the ball over on three straight plays en route to a 27-13 road loss to the Patriots. Cleveland followed that up with a 24-19 road loss to a Denver team starting a quarterback that prior to that contest, had as many NFL starts as most of us: zero.
Against the Bills, the Browns showed promise mixed together with complete ineptitude but did enough to escape with a win. Cleveland scored on their opening drive only to get a taunting penalty that led to a missed extra point. Later in the first quarter, the Browns had eight plays from inside the Buffalo two-yard line and came away with nothing as Nick Chubb was stuffed on fourth and goal. Cleveland gave up a go-ahead touchdown drive with under six minutes to play to trail 16-12. The Browns regrouped, covering 82 yards in 10 plays, capped by Baker Mayfield's seven-yard scoring pass to Rashard Higgins with 1:44 to play. Cleveland had to white-knuckle it down the stretch as Buffalo moved into field goal range only to see Steven Hauschka miss a 53-yard kick that would have tied the game drift left: he also  missed a 34-yard kick wide left just before the half. The Browns owned a 368-344 edge in total offense, picked up 24 first downs while allowing 20 and won the time of possession 31:14 to 28:46 in the game. More importantly, they didn't turn the ball over: for that matter, neither side did. It proved to be just enough to snap a four-game losing skid.
The Running Game
Pittsburgh Steelers Running Offense vs. Cleveland Browns Running Defense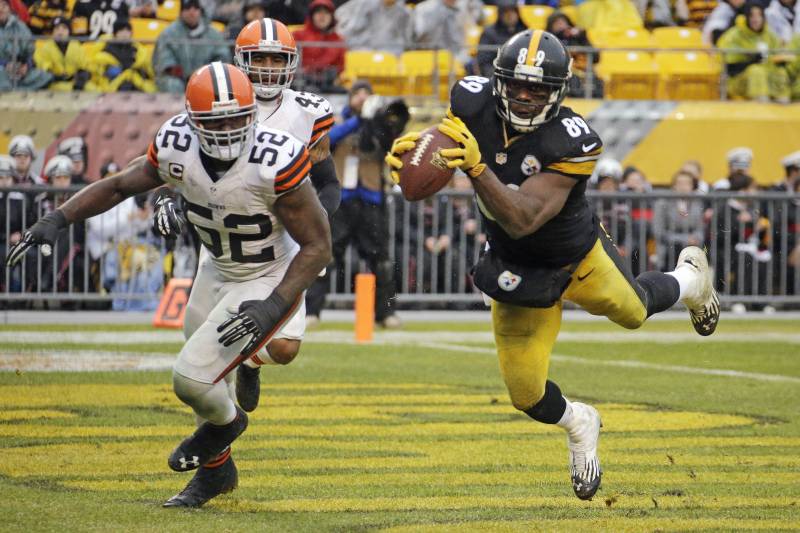 Pittsburgh, despite having moved on from the whole Le'Veon Bell fiasco that plagued them all of last season, was unable to do much when it came to moving the sticks on the ground. The Steelers were held under 90 yards in each of their first five games of the season. Pittsburgh started the season with 13 carries for 32 yards in the season opener against the Patriots. Things haven't been much better: they had 16 carries for 81 yards against the Seahawks in week 2, 22 times for 79 yards against San Francisco in week 3 and 25 carries for 66 yards against the Bengals in week 4. Against Baltimore in week five, they had 19 carries for 77 yards but the run game has shown signs of life lately. The team has gone over the century mark twice in the last four games though they are coming off a dismal 17 carry, 42 yard performance against the Rams last week.
James Conner has been bottled up all season long despite leading the team in rushing yards. He has run the ball 97 times for 380 yards and four scores on the season but missed the last two weeks with a shoulder injury. He hopes to return to action this week. Jaylen Samuels has 40 carries for 89 yards plus a score but missed a couple of weeks after knee surgery. Benny Snell Jr. (28 carries, 118 yards) and Trey Edmunds (17 carries, 74 yards) have seen their share of action with the injury issues. Pittsburgh has six run plays that have covered at least 20 yards this season: Conner and Snell Jr. each have two while Devlin Hodges (two carries, 20 yards) along with Edmunds have one apiece. The Steelers have picked up 40 first downs via the ground game this season.
Cleveland Browns Run Defense
Cleveland has had all kinds of struggles stopping the run game of the opposition this season. The Browns have given up at least 100 yards in five of their nine games this season: they allowed at least 90 in two others and their best game saw the opposition run for 79 yards: that was the Patriots in week eight. Cleveland had allowed at least 170 yards on the ground in weeks four through six before the Patriots game. The Browns gave up 20 carries for 127 yards and a score against the Broncos in week nine before holding the Bills to 20 carries for 84 yards last week.
Joe Schobert leads the team with 82 tackles (60 solo) along with two forced fumbles and a fumble recovery. Jermaine Whitehead (41 tackles, forced fumble) was number two in tackles on the team but was released by the Browns after the loss to Denver after he made threats on Twitter. Mack Wilson (40 tackles), Morgan Burnett (36 tackles) and Sheldon Richardson (35 tackles) round out the top five. Myles Garrett (28 tackles, two forced fumbles) leads the team with 13 tackles for loss while Olivier Vernon (23 tackles, forced fumble) and Larry Ogunjobi (27 tackles) both have five. As a team, the Browns have recorded 53 tackles for loss, forced seven fumbles and recovered five this season.
Stats
PIT
14th in run play percentage (40.61 percent)
23rd in rushing attempts per game (22.4)
27th in rushing yards per game (83.2)
28th in yards per carry (3.5)
Tied for 22nd in rushing TD (five)
Tied for 17th in longest rush (45 yards)
CLE
26th in percentage of run plays against (44.48 percent)
24th in run plays per game against (27.8)
27th in rushing yards allowed per game (134.9)
28th in opposing yards per carry (4.9)
Tied for 15th in rushing TD allowed (eight)
29th in longest rush allowed (83 yards)
Who has the Edge?
Pittsburgh hasn't run the ball all that impressively this season. Injuries have taken a toll as Conner, Samuels and Snell Jr. have all missed time already. Conner hopes to be back this week to take over the #1 spot in the running back pecking order. Cleveland has struggled against the run all season long, allowing at least 79 yards in every game this season. While the Browns were decent last week, it's hard to expect anything from either side on a week to week basis with any consistency. This one is a wash.
Advantage: Push
Cleveland Browns Running Offense vs. Pittsburgh Steelers Running Defense
Cleveland Browns Running Offense
Cleveland has been pretty effective when they use the ground game this season. The Browns have run for over 100 yards in six of their nine games this season and they have at least 90 yards in two other contests. Cleveland has three games with at least 150 yards on the ground this year, highlighted by a season-high 193 yards in week four against the Ravens. In the last month, the Browns have cracked the century mark three times: it was in week nine that they fell short of the mark as the team ran the ball 29 times for 90 yards against the Broncos. That 3.1 yard per carry average snapped a four-week run where the team ran for at least 5.7 yards a carry. Last week against Buffalo, Cleveland ran 26 times for 147 yards.
Nick Chubb is leading the team with 174 carries for 919 yards and six scores this season. He did fumble on back to back attempts against New England back in week eight. There's not much production going on behind Chubb: Baker Mayfield (14 carries, 76 yards, TD), Kareem Hunt (four carries, 30 yards) and Dontrell Hilliard (13 carries, 49 yards, two TD) are the next in line in that department. Cleveland has eight run plays that have covered at least 20 yards this season with Chubb having all of them. The Browns have picked up 46 first downs via the ground this season.
Pittsburgh Steelers Run Defense
Pittsburgh has had their struggles stopping the ground game by the opposition as they have allowed more than 125 yards four times this season. Three of those contests came in a four-week span from weeks two through five in games against Seattle, San Francisco and Baltimore. In the last month, the Steelers have been tougher against the ground game as they have held three of their last four opponents under 100 yards. That includes limiting the Rams to 88 yards on 23 carries in their win last week.
Linebacker Devin Bush has made a major impact defensively as the 10th overall pick leads the team with 69 tackles (28 solo) and four fumble recoveries, including one for a score, this season. Terrell Edmunds (62 tackles), Mark Barron (48 tackles, fumble recovery), Joe Haden (47 tackles, forced fumble) and Cameron Heyward (43 tackles, forced fumble) are among the team leaders in tackles this season. T.J. Watt (31 tackles, four forced fumbles, three fumble recoveries) leads the team with 13 tackles for loss. Bud Dupree (36 tackles, two forced fumbles, fumble recovery) has nine while Heyward adds eight on the season. As a team, the Steelers have recorded 64 tackles for loss, forced 13 fumbles and recovered 12 with two fumble returns for scores this season.
Stats
CLE
21st in run play percentage (38.73 percent)
21st in rushing attempts per game (23.7)
13th in rushing yards per game (123.9)
2nd in yards per carry (5.2)
Tied for 13th in rushing TD (nine)
2nd in longest rush (88 yards)
PIT
18th in percentage of run plays against (41.07 percent)
23rd in run plays per game against (27.3)
16th in rushing yards allowed per game (105.3)
7th in opposing yards per carry (3.9)
Tied for 3rd in rushing TD allowed (four)
7th in longest rush allowed (37 yards)
Who has the Edge?
Cleveland has a good run game with Chubb poised to crack the 1,000 yard mark in the near future. The addition of Hunt to the backfield makes the Browns that much more dangerous as it gives them a chance to not overwork Chubb and have a solid two-back system. Pittsburgh has been tough against the run lately but they have had their problems with teams that commit to the ground. Seattle, San Francisco and Baltimore all hurt the Steelers with the run: look for Cleveland to try and attack with the Chubb/Hunt combination in order to keep the pass rush off Mayfield.
Advantage: Cleveland Browns
The Passing Game
Pittsburgh Steelers Passing Offense vs. Cleveland Browns Passing Defense
Pittsburgh Steelers Passing Offense
Pittsburgh has tried to move the ball through the air but having injuries to their quarterback group and inconsistent production from their receivers have hampered them this season. The Steelers have to try to get healthy and find a way to develop some chemistry in a hurry if they hope to stay in the mix for a playoff berth. Pittsburgh threw for 276 yards in the opener against the Patriots but things have sputtered a bit since then. The Steelers picked up 187 yards against the Seahawks in week 2, 174 yards against the 49ers in week three and 260 yards against Cincinnati in week four. In week five against the Ravens, Pittsburgh finished with 203 yards through the air. The passing game hasn't set the world on fire in the last month: the team hasn't thrown for more than 251 yards in that stretch with two games falling under the 200 yards mark.
Ben Roethlisberger was 35 of 62 for 351 yards with no touchdowns and an interception before suffering an elbow injury that ended his season. Mason Rudolph is 131 of 203 for 1,330 yards with 11 touchdowns and four picks: he missed the game against the Chargers after suffering a concussion against Baltimore. Devlin Hodges is 22 of 29 for 200 yards with one touchdown and one interception: he is the backup right now and started the Los Angeles game. Samuels is four of five for 35 yards with an interception running out of the Wildcat formation. JuJu Smith-Schuster leads the team with 36 receptions for 503 yards plus three scores. Conner (29 receptions, 236 yards, two TD), Diontae Johnson (30 catches, 363 yards, three TD), Samuels (29 receptions, 167 yards) and Vance McDonald (25 grabs, 187 yards, three TD) are solid secondary options in the passing game. The Steelers have 22 pass plays that have covered at least 20 yards: Smith-Schuster has seven, James Washington (20 catches, 320 yards, TD) adds six while Conner and Johnson both have four.
Cleveland Browns Passing Defense
Cleveland has held their own against the pass this season. The Browns have yet to give up a 300-yard passer on the season, but you can look at that in one of two ways. Optimistically, you could say the Browns are doing the job by not getting beat through the air. On the flip side of that, you could easily point out that the opposition is having so much success pounding the ball on the ground that the passing game is a secondary thought process. Cleveland has been effective with their pass rush, recording at least two sacks in eight of their nine games this season. By the same token, they've allowed at least two touchdown passes in seven of their nine contests.
Garrett leads the team with 10 sacks on the season. Ogunjobi is next in line with four on the year while Vernon contributes three. Denzel Ward (17 tackles, fumble recovery) has five pass defenses to own the team lead in that category. Damarious Randall (27 tackles, two sacks, two tackles for loss) adds four while T.J. Carrie (32 tackles, three tackles for loss, fumble recovery) and Wilson each have three on the season. Devaroe Lawrence (seven tackles, two tackles for loss, pass defense, fumble recovery), Carrie, Juston Burris (eight tackles, pass defense) and Whitehead each have one interception to share the team lead. As a team, the Browns have recorded 26 sacks, 27 pass defenses and four interceptions this season.
Stats
PIT
19th in pass play percentage (59.39 percent)
18th in completion percentage (64.2)
27th in passing yards per game (205.6)
Tied for 21st in TD passes (12)
Tied for 18th in INT thrown (seven)
25th in net yards per pass attempt (6.2)
6th in longest pass play (76 yards)
22nd in passer rating (85.9)
CLE
7th in pass play percentage against (55.52 percent)
7th in passing yards per game allowed (221.7)
15th in completion percentage allowed (63.6)
Tied for 19th in TD passes allowed (16)
Tied for 26th in INT (four)
Tied for 10th in sacks (26)
22nd in passer rating allowed (99.4)
18th in net yards per pass attempt (seven)
Who has the Edge?
Pittsburgh hasn't moved the ball as much through the air as they have in previous seasons. Of course, when you've played three quarterbacks and two of them are unproven commodities at the NFL level, it means that something has to give. Rudolph has been better of late but the fact that Smith-Schuster has only 36 grabs tells you how much the team has sputtered through the air. On the other side, Cleveland has had their struggles against opposing quarterbacks. They were beaten by Brandon Allen in his first NFL start a couple weeks ago and gave up 266 yards to Josh Allen last week. If the Browns don't get pressure, they're susceptible to getting picked apart. Give Pittsburgh a slight edge.
Advantage: Pittsburgh Steelers
Cleveland Browns Passing Offense vs. Pittsburgh Steelers Passing Defense
Cleveland Browns Passing Offense
Cleveland has a dynamic pair of receivers and a former first overall pick running the offense but the passing game hasn't been as explosive as many would have expected before the season began. The Browns have just two 300-yard passing games on the season and part of that is on the offensive line: they've allowed at least one sack in seven of the eight games and at least three sacks in five contests this season. In the last four games, Cleveland has thrown for under 200 yards twice with a high mark of 273 yards in that span, which came against Denver last week.
Baker Mayfield is 185 of 309 passing this season for 2,201 yards with nine touchdowns and 12 interceptions. He has been sacked 25 times, losing 200 yards in the process. Odell Beckham Jr. is one of two for 20 yards while Garrett Gilbert misfired on his lone pass attempt on the year. Beckham Jr. is second on the team with 44 catches for 632 yards and a touchdown this season. Jarvis Landry has a team-high 45 catches for 652 yards and two touchdowns while Chubb (27 grabs, 166 yards), tight end Demetrius Harris (10 catches, 92 yards, two TD) and Hilliard (11 receptions, 88 yards) are the only other players with double-digit receptions. The Browns have 30 pass plays that have covered at least 20 yards this season: Landry has 12 while Beckham has nine.
Pittsburgh Steelers Passing Defense
Pittsburgh had their problems containing the passing game in the first three games of the season before getting things into shape in the last couple of games. The addition of Minkah Fitzpatrick to the secondary after acquiring him from Miami has paid huge dividends. Five of Pittsburgh's last six opponents have been held under 250 yards through the air with three of them failing to crack the 200-yard mark. After recording six sacks in their first three games combined, the Blitzburgh defense is back: they have at least four sacks in five of their last six contests, making life difficult for opposing quarterbacks.
Watt leads the team with 9.5 sacks on the year. Dupree contributes six sacks while Heyward is right behind with 5.5 sacks on the season. Haden leads the team with nine pass defenses while Minkah Fitzpatrick (34 tackles, forced fumble, fumble recovery, TD) adds eight and Cameron Sutton (10 tackles, tackle for loss) adds five. Fitzpatrick has picked off five passes (TD) in his seven games with the team to lead the way. Bush has two while Watt, Mike Hilton (34 tackles, sack, four pass defenses, four tackles for loss, forced fumble), Haden, Trey Edmunds (four tackles, pass defense), Barron, Sutton and Kameron Kelly (17 tackles, pass defense) each have one. As a team, Pittsburgh has recorded 33 sacks, 52 pass defenses and 14 interceptions, including one pick-six, this season.
Stats
CLE
12th in pass play percentage (61.27 percent)
31st in completion percentage (59.6)
19th in passing yards per game (224.6)
Tied for 28th in TD passes (nine)
Tied for 29th in INT thrown (12)
20th in net yards per pass attempt (6.5)
2nd in longest pass play (89 yards)
30th in passer rating (75)
PIT
15th in pass play percentage against (58.93 percent)
12th in passing yards per game allowed (226.9)
19th in completion percentage allowed (64.7)
Tied for 17th in TD passes allowed (15)
Tied for 2nd in INT (14)
3rd in sacks (33)
6th in passer rating allowed (82.8)
9th in net yards per pass attempt (6.4)
Final Outlook
While Cleveland is coming off a win, there were several glaring things that make one a bit wary of their chances here. Having eight plays from inside the Buffalo two-yard line and ending up with no points is a prime example of that. The fact that Mayfield nearly turned the ball over for what would have been a game-clinching touchdown on the final drive is another. One cannot overlook the fact that the Browns prevailed thanks to a pair of missed field goals.
On the other side, Pittsburgh has won four straight games and they have won five of six after starting the year 0-3. That's not something that can be taken lightly. The Steelers have found their swagger on defense and it's making things tough for opposing offenses, much like the Steel Curtain did in the 1970s. Pittsburgh's offense has had its hiccups but they come up with clutch drives when you need them. When the defense sets you up with short fields, that's something that can't be overstated. Against a team like the Browns, who are prone to turning the ball over, you have to give the advantage to Pittsburgh, even on the road. Take the points and the Steelers in this one.
According to Covers.com, the Steelers are 4-0-1 ATS in their last 5 Thursday games, 4-0 ATS in their last 4 games after accumulating less than 90 yards rushing in their previous game and 6-1 ATS in their last 7 games overall. Cleveland is 5-21-2 ATS vs. a team with a winning record, 0-4 ATS in their last 4 games in Week 11 and 0-6-1 ATS in their last 7 games on grass.
Pittsburgh Steelers Live Stream Schedule
Where to watch live streams ?
Pittsburgh Steelers Live Stream On Youpit Network
Pittsburgh Steelers 
The Pittsburgh Steelers are a professional American football team based in Pittsburgh, Pennsylvania. The Steelers compete in the National Football League (NFL), as a member club of the league's American Football Conference (AFC) North division. Founded in 1933, the Steelers are the oldest franchise in the AFC.
In contrast with their status as perennial also-rans in the pre-merger NFL, where they were the oldest team never to win a league championship, the Steelers of the post-merger (modern) era are one of the most successful NFL franchises. Pittsburgh is tied with the New England Patriots for the most Super Bowl titles (6), and has both played in (16) and hosted more conference championship games (11) than any other NFL team. The Steelers have won 8 AFC championships, tied with the Denver Broncos, but behind the Patriots' record 11 AFC championships. The Steelers share the record for second most Super Bowl appearances with the Broncos, and Dallas Cowboys (8). The Steelers lost their most recent championship appearance, Super Bowl XLV, on February 6, 2011.
The Steelers, whose history traces to a regional pro team that was established in the early 1920s, joined the NFL as the Pittsburgh Pirates on July 8, 1933, owned by Art Rooney and taking its original name from the baseball team of the same name, as was common practice for NFL teams at the time.[4] To distinguish them from the baseball team, local media took to calling the football team the Rooneymen, an unofficial nickname which persisted for decades after the team adopted its current nickname. The ownership of the Steelers has remained within the Rooney family since its founding.[5] Art's son, Dan Rooney owned the team from 1988 until his death in 2017. Much control of the franchise has been given to Dan's son Art Rooney II. The Steelers enjoy a large, widespread fanbase nicknamed Steeler Nation.[6] The Steelers currently play their home games at Heinz Field on Pittsburgh's North Side in the North Shore neighborhood, which also hosts the University of Pittsburgh Panthers. Built in 2001, the stadium replaced Three Rivers Stadium which hosted the Steelers for 31 seasons. Prior to Three Rivers, the Steelers had played their games in Pitt Stadium and Forbes Field.