Seattle Seahawks vs. Philadelphia Eagles Prediction, Preview and Odds – 1-5-2020
The wackiest matchup of the NFL Wild Card weekend will take place in Philadelphia, where the 9-7 Eagles are hosting the 11-5 Seahawks. Seattle came up several inches short of a Week 17 win against San Francisco, dropping out of a first-round bye and into a road trip. Philadelphia picked up a 34-17 win against the New York Giants in the final week of the regular season, completing a four-game winning streak to edge out the Dallas Cowboys in the NFC East. Both teams are dealing with significant injuries across the board.
Seattle coming off narrow loss to San Francisco
Seattle was already dealing with major injuries prior to last week's hom
e loss to San Francisco, but the problem got even worse in that game. Linebacker Mychal Kendricks tore his ACL and is out for the season and wide receiver Jaron Brown suffered a sprained MCL that could keep him out of Sunday afternoon's game. Offensive lineman Duane Brown is also expected to miss this weekend's game. Seattle brought back veteran running back Marshawn Lynch for last weekend's game after the starters both went down with injuries, but rookie Travis Homer led the way with 10 carries for 62 yards. He also had five catches for 30 yards. Lynch rushed for 34 yards and a touchdown on 12 carries.
The Seahawks' offense starts with quarterback Russell Wilson, who threw for 4,110 yards and 31 touchdowns this season, while adding five interceptions. Wilson also scrambled for 342 yards and three touchdowns on 75 carries. Chris Carson and Rashaad Penny, Seattle's top two running backs, are out with injuries. Homer and Lynch will likely split time in the backfield on Sunday. Wide receiver Tyler Lockett has been Wilson's favorite target, catching 82 passes for 1,057 yards and eight touchdowns this season. Rookie D.K. Metcalf has added 58 receptions for 900 yards and seven scores.
Eagles hoping for Ertz' return
Philadelphia has been dealing with widespread injuries for the latter part of the season. Tight end Zach Ertz, the team's leading weapon in the passing game, was out for last week's game is listed as questionable this week. Running back Miles Sanders returned to the field against the Giants, but he injured his ankle and is currently listed as questionable as well. Wide receiver Nelson Agholor is also questionable. DeSean Jackson has missed the majority of the season with an abdominal injury, but he could return on Sunday. The Eagles turned the ball over five times in their Week 12 loss to Seattle, only making it to the red zone twice.
Eagles' quarterback Carson Wentz made enough big plays to lead Philadelphia to the victory last week. He has thrown for 4,039 yards and 27 touchdowns this season, while also throwing seven interceptions. Running back Jordan Howard played one snap last week in his first game action since Nov. 3 and is likely going to get more significant playing time on Sunday. Howard has rushed for 525 yards and six touchdowns on 119 carries this season. Boston Scott filled in admirably for Sanders and Howard, scoring three touchdowns against the Giants. On the season, Scott has only rushed for 245 yards and five scores on 61 attempts. Tight end Dallas Goedert might be the best available option in the passing game if Ertz and Agholor are unable to go. Goedert has caught 58 passes for 607 yards and five touchdowns this season.
Philadelphia Eagles Live Stream Schedule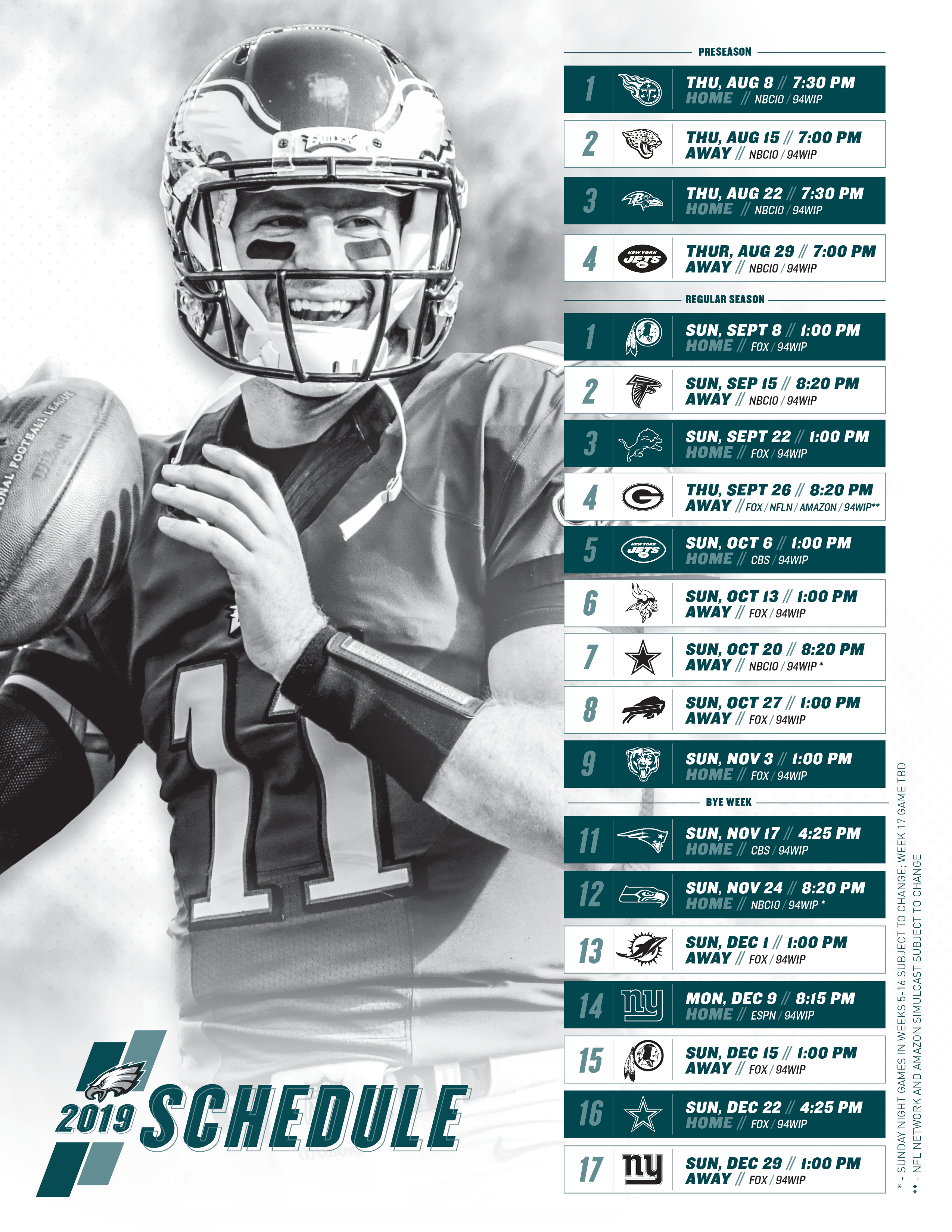 Where to watch live streams?
Philadelphia Eagles Live Stream On Youpit Network
Philadelphia Eagles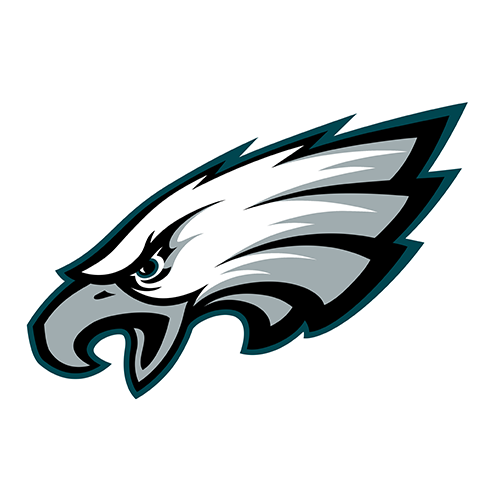 The Philadelphia Eagles are a professional American football team based in Philadelphia, Pennsylvania. The Eagles compete in the National Football League (NFL) as a member club of the league's National Football Conference (NFC) East division. In the 2017 season the team won Super Bowl LII, their first Super Bowl win in franchise history and their fourth NFL title overall, after winning the Championship Game in 1948, 1949, and 1960.
The franchise was established in 1933 as a replacement for the bankrupt Frankford Yellow Jackets, when a group led by Bert Bell secured the rights to an NFL franchise in Philadelphia. Bell, Chuck Bednarik, Bob Brown, Brian Dawkins, Reggie White, Steve Van Buren, Tommy McDonald, Greasy Neale, Pete Pihos, Sonny Jurgensen, and Norm Van Brocklin have been inducted to the Pro Football Hall of Fame.
The team has had an intense rivalry with the New York Giants. This rivalry is the oldest in the NFC East and is among the oldest in the NFL. It was ranked by NFL Network as the number one rivalry of all-time, Sports Illustrated ranks it as the fourth-best rivalry in the NFL,[4] and according to ESPN, it is one of the fiercest and most well-known rivalries in the American football community.[5] They also have a bitter rivalry with the Dallas Cowboys, which has become more high-profile since the 1960s, as well as a historic rivalry with the Washington Redskins. Their rivalry with the Pittsburgh Steelers is another bitter rivalry known as the battle of Pennsylvania, roughly dating back to 1933. It mostly arises from the two teams' statuses as being from opposite ends of the same state.[6]
The team consistently ranks among the best in the league in attendance and has sold out every game since the 1999 season.[7][8] In a Sports Illustrated poll of 321 NFL players, Eagles fans were selected as the most intimidating fans in the NFL.