Tennessee Titans vs New England Patriots
Where: Gillette Stadium, Foxboro, MA
When: Saturday, January 4, 8:15 PM. ET.
The New England Patriots will kick-off their Super Bowl defense with a Wildcard matchup with the Tennessee Titans on Saturday night.
Titans Hoping Henry Can Carry Them To The Win
The Titans are making their return to the playoffs after a one-year absence thanks to the play of Derrick Henry, who led the league in rushing this season. With Ryan Tannehill providing solid play at the quarterback position, the team will be hoping the fact that they have a passing game will open up some running lanes for Henry and help the get the win.
Tennessee had a chance to win the AFC South, but the team lost two of its last three games and had to settle for second place in the division, which means they have to face the Patriots in the playoffs for the second consecutive time. They lost by 21 points when they played New England in 2017 and will be hoping for a better result on Saturday.
Tannehill led the Titans in passing with 2,742 yards, 22 touchdowns, and six interceptions. He also had 185 rushing yards and four touchdowns. Henry finished with 1,540 rushing yards and 16 touchdowns, while A.J. Brown had 52 receptions for 1,051 yards and eight touchdowns.
The Titans gave up 20.7 points per game. They struggled down the stretch, giving up 22.3 points per game in their last six games and will need to play better if they want to beat the champs.
Patriots Need Defense To Lead Them To Victory
The Patriots have been the premier team in the league, especially during the playoffs where they have dominated in recent years. They have played in four of the last five Super Bowls and will try to make it to their fifth Super Bowl in the last six years, but with Tom Brady in decline, they will need their defense to lead them to the promised land.
New England's defense has been the best in the league this season, holding opponents to 14.1 points per game. They weren't as sharp in their final five games, giving up 21.6 points per game and will need to play as they did earlier in the season if they want to pick up the win.
Offensively, the Patriots are averaging 26.1 points per game, which was seventh in the league. However, Brady struggled in the second half of the season, which is a cause for concern. The future Hall-of Famer matched a career-low 60.8 completion percentage for the season and completed less than 60 percent of his passes in eight games this year. They will need him a better performance from him if they want to get the win.
Brady finished with 4,057 yards, 24 touchdowns, and eight interceptions. Sony Michel led the team with 912 rushing yards and seven touchdowns, while Julian Edelman led the team with 100 receptions for 1,117 yards and six touchdowns.
New England Patriots Live Stream Schedule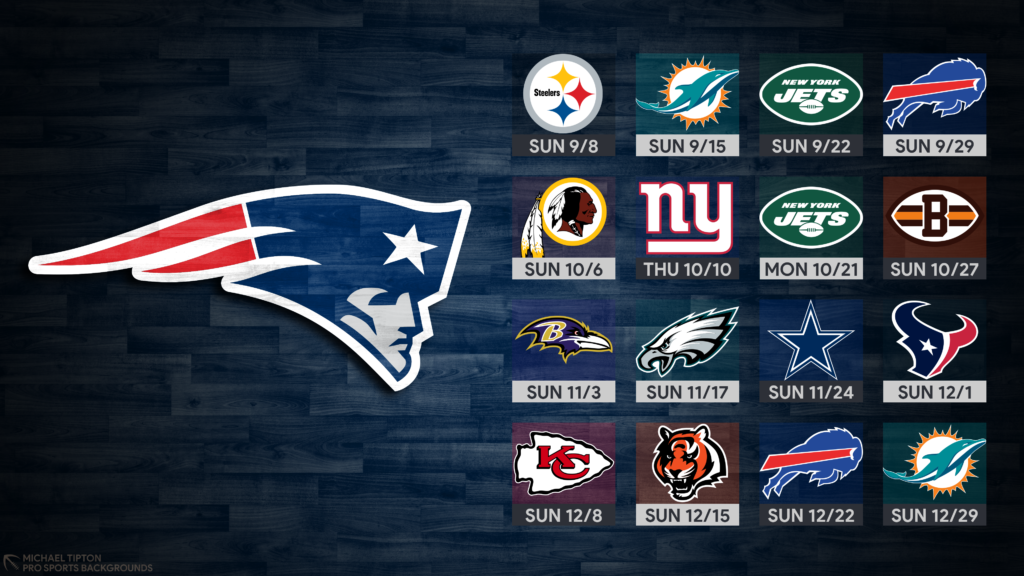 Where to watch live streams?
New England Patriots Live Stream On Youpit Network
EAST RUTHERFORD, N.J. (AP) Tom Brady and the New England Patriots are still rolling right along with a high-powered offense and a stingy defense that has their record blemish-free.
The New York Jets look a bit different, though, from the team Bill Belichick's bunch beat 30-14 less than a month ago. And, it all starts at quarterback.
Luke Falk was under center then, making his first NFL start and looking overwhelmed and overmatched. Sam Darnold is back this time around, fully recovered from mononucleosis and coming off one of the best performances of his young career.
"He's a big, strong kid that can stand in the pocket and he's hard to tackle," Belichick said. "He's not an easy guy to bring down. He's big, he can see and find guys under pressure."
Darnold showed no signs of rust after missing three games because of his illness, going 23 of 32 for 338 yards and two TDs with an INT in a 24-22 win over Dallas and being selected the AFC's offensive player of the week.
"Well, the quarterback makes a big difference," Belichick said. "They've gotten other players back on both sides of the ball. Coach Gase had the bye week and probably had an opportunity to get some things reworked. That was obvious in the Dallas game that their execution and some of the things they were doing they were just more efficient at and looked better doing them."
It was a big boost for what had been a badly struggling Jets offense. Darnold's day was highlighted by his 92-yard touchdown throw to Robby Anderson, the longest offensive play in the NFL this season and the second-longest in franchise history.
Now, Darnold and the Jets hope to use that momentum to get something going against the Patriots' top-ranked defense at MetLife Stadium in a prime-time showdown. New York is also expecting linebacker C.J. Mosley, sidelined since injuring his groin in the season opener, to return Monday night.
"You've got to continue to grind," Darnold said. "We know that after a good win, you've got to come right back in here because we got a tough one Monday night against the Pats. We know what our job is, we've just got to come in and get back to work."
The Patriots are off to a 6-0 start for the fourth time in team history, with a chance to get to 7-0 for just the third time. They also have a chance to sweep the two-game regular-season series against the Jets for the fourth straight year.
Brady is 28-6 against the Jets in the regular season, including seven straight wins. He's also 16-7 in Monday night games, including 2-0 against New York. Meanwhile, Belichick is 18-8 on Monday nights – but just 9-7 in those games on the road.
"Monday night is always a high-energy game," Belichick said. "We'll point to that and know it's always tough down there in New York. So, we need to have a good week here and be ready to go."
Here are some other things to know for the latest Patriots-Jets showdown:
BEEN A WHILE
The Jets and Patriots play on a Monday night for the eighth time, and New York leads those matchups 4-3.
The previous time the AFC East rivals squared off on "Monday Night Football" was in 2010, when New England cruised to a 45-3 victory.
It's also the first time the Patriots are playing a Monday night game on the road against the Jets since 2005, when they won 31-21.
THIRD-DOWN DOMINANCE
The Patriots entered Week 7 allowing a league-low eight points per game. One of the reasons is how stingy their defense has been on third down.
New England has held teams to an NFL-low 10 of 73 (13.7 percent) conversion rate in those situations. The fewest third downs allowed in a 16-game season is 49 by the 1991 New Orleans Saints.
In their Week 3 win over the Jets, the Patriots did not allow a third-down conversion, which is something New England has accomplished five times since 2000. Only five teams have not allowed a third down twice in the same season – the Packers (2005), Eagles (2009), Giants (2010), Dolphins (2011) and Saints (2018).
YOU RANG?
Le'Veon Bell hasn't had a breakout-type game for the Jets, but the fluid quarterback situation certainly hasn't helped.
With Darnold back and the offensive line improving the past few weeks, the star running back could start seeing some more opportunities to make plays. He has 256 yards rushing and a TD on 85 carries for a 3.0 average, and 28 catches for 169 yards and a score.
"Hopefully we can open it up a little bit for him," coach Adam Gase said. "We've seen a lot of loaded boxes, he's had a lot of tough runs. He's made the most of what he's had and probably gotten us more than what we should have."
WELCOME BACK, WATSON
Tight end Ben Watson is back for another stint with the Patriots and it's right on time for an offense looking for some stability and more production from the position.
The 38-year-old Watson was re-signed by New England on Wednesday, less than a week after being released. Belichick left the door open for Watson to return, saying he was cut simply because there wasn't an available roster spot once he returned from serving a four-game suspension for a positive banned substance test following last season.
Circumstances changed when Matt LaCosse injured his knee during the Patriots' win over the Giants on Thursday.
Without Rob Gronkowski, the Patriots haven't gotten a ton of production in the pass game from their tight ends. LaCosse and Ryan Izzo have combined for only nine catches for 169 yards.
NO BENNETT
Michael Bennett will be missing from the Patriots' defensive huddle on Monday night.
The defensive end was suspended for what he said in a statement to ESPN was a "philosophical disagreement" with defensive line coach Bret Bielema. Bennett also offered an apology for any distraction it might have created.
Belichick declined to comment when asked about the suspension this week.
The Patriots traded for the 11-year veteran in March, but his usage has steadily decreased over New England's first six games. Bennett has started just once and played a season-low 11 snaps in the Patriots' win over the Giants in Week 6.
—
New England Patriots
The New England Patriots are a professional American football team based in the Greater Boston area. The Patriots compete in the National Football League (NFL) as a member club of the league's American Football Conference (AFC) East division. The team plays its home games at Gillette Stadium in the town of Foxborough, Massachusetts, which is located 28 miles (45 km) southwest of downtown Boston, Massachusetts, and 25 miles (40 km) northeast of downtown Providence, Rhode Island. The Patriots are also headquartered at Gillette Stadium.
Founded in 1959 as the Boston Patriots, an original member of the American Football League (AFL), the team joined the NFL in the leagues' 1970 merger, then changed its name when it moved to Foxborough in 1971. The New England Patriots played their home games at Foxboro Stadium through 2001, then moved to Gillette Stadium at the start of the 2002 season. The Patriots' rivalry with the New York Jets is considered one of the most bitter rivalries in the NFL.
Since the arrival of head coach Bill Belichick and quarterback Tom Brady in 2000, the Patriots have become one of the most successful teams in NFL history, claiming 16 AFC East titles as part of 18 consecutive winning seasons since 2001. The franchise has since set numerous notable records, including most wins in a ten-year period (126, in 2003–2012), an undefeated 16-game regular season in 2007, the longest winning streak consisting of regular season and playoff games in NFL history (a 21-game streak from October 2003 to October 2004), and the most consecutive division titles won by a team in NFL history (ten straight division titles from 2009 to 2018). The team owns the record for most Super Bowl appearances (nine) and wins (six) by a head coach–quarterback tandem, most conference championships overall (eleven), most Super Bowl appearances overall (eleven), tied with the Pittsburgh Steelers for the most Super Bowl wins (six), and tied with the Denver Broncos for the most Super Bowl losses (five).